The Firefly Edition of The Last of Us Part 1 is finally coming to Germany. After a year of exclusivity in the USA, it was about time. The edition includes the base game, the prologue chapter Left Behind, the comic series American Dreams, a steel book and unlockable content.
In January the fireflies fly
The edition is scheduled to be released on January 26, 2023 and costs a handsome 109.99 euros. Quite a lot for the fact that the first part of the series first appeared in 2013. Animator Robert Morrison defends the award as "the most carefully constructed and elaborated project" he has seen or been involved with in his entire career.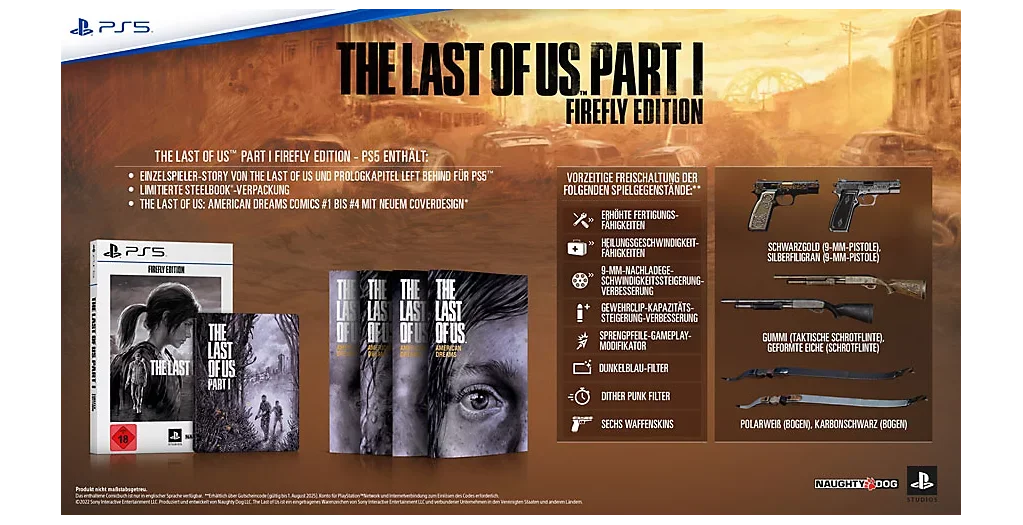 Naughty Dog developers Matthew Gallant and Shaun Escayg told our UK colleagues: "The Last of Us Part 1 is a game that rivals any other game coming out this year. It's a full PS5 game , which was developed using our latest and greatest engine technology."
---
More on The Last of Us Firefly Edition:
The Last of Us: Part 1 is compatible with Steam Deck
The Last of Us: Second trailer for the HBO series goes into the two main protagonists
The Last of Us: Firefly Edition is causing trouble for US fans
---
It would contain the maximum achievable in terms of fidelity, graphics, framerate, combat and AI. "We wanted to push everything as far as possible and create a version of the game that seamlessly adapts to everything else that comes out on modern consoles," they said. It is a fully-fledged PS5 game, which also speaks for the high price.
You can currently pre-order the game from PlayStation Direct. The TV adaptation of The Last of Us will also be released in January. So it's going to be an exciting month for The Last of Us fans.